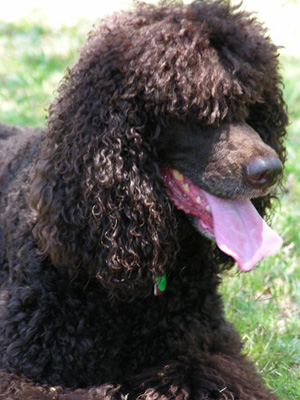 12/11/02 - 1/31/14
Health Clearances:
OFA Excellent Hips
OFA Normal Elbows
OFA Normal Thyroid
CERF tested Cataract Significance unknown
CHIC 46015



I hadn't planned on breeding Edin (Am/Mex/FCI Int'l Ch. Hooligan's Holy Grail, CD, CGC) for another year, but due to a difficult false pregnancy & recommendations from our reproductive vet, we updated our plans. I'd looked at potential stud dogs at IWSCA 2002 & knew that I wanted to use Ch. Castlehill's Air Jordan O'Landacre, UD, WC, three time IWSCA Specialty Best of Opposite Sex. Jordan had the wonderful spring of rib, lovely proportions, good tail set & carriage, & proper coat that I wanted to complement Edie. Jordan's owner, Missy McMunn, & I made plans. I had custom flower remedies mixed to support Edie through the conception/gestation/nursing process with individual components from Green Hope Farm in New Hampshire.

Edie came in season & plans solidified. However, we couldn't have anticipated a sniper terrorizing the Mid-Atlantic states exactly when Edie needed to be shipped. Because of the anxieties, Missy was "locked down" with her fourth grade class & tensions were high. In spite of everything, we managed to get Edin safely on a plane to Maryland, & the breeding progressed.

With Missy's permission, I wanted Edie to stay an extra while to let everything settle. I had planned on attending the October IWS Rat Tail Days gathering in Rhode Island. I stopped in NYC to visit with family; Missy picked me up in New Jersey &, along with three of Missy's pups, off we went. Back to Maryland, a few days of sightseeing then Edie & I flew home. The snipers were captured the very next day.
Edie's pregnancy was uneventful but the whelping had its share of drama. To make a long story short, Edie whelped eleven vibrant pups on December 11th, 2002 by Caesarian section – eleven on the eleventh. The X-ray had shown ten pups, but we were presented with an extra little girl who stayed with us for about three weeks then sadly chose to leave.

Edie's sister Mabel, Ch. Hooligan's Fair Hibernia, CD, SH, WCX, RN, whelped a litter of twelve pups about two weeks later, so Fi became a grandmother many times over that December.

Glory was always the pup who caught my eye & I knew from about three & a half weeks that she would be the one who would stay. Some were special & I felt a particular bond with others, but whenever the pups were evaluated, it was always Glory.

As with my first IWS Bes, Glory's name at least partially preceded her. For me Bes was linked to Elizabeth I -- "Bess" being a diminutive of Elizabeth -- & I wanted Glory's name to acknowledge her great aunt. "Gloriana" was a term of admiration for Elizabeth & poet Edmund Spencer had written a play about her called "The Faerie Queene." Two of my favorite historic IWS, half-sisters Ch. Breifny Gloria & Ch. Breifny Fairy, would be good inspirations for this pretty pup. Also, I wanted to recognize the positive influence of the Green Hope Farm essences on this litter, so all of the pups were to have registered names beginning with the letters G &/or H. The light pink bitch pup became Gloriana – Hoolign GreenHopeFaerieGlory.

The previous summer Missy had found it helpful to have a communicator speak with her litter as an aide in placing them. It seemed reasonable so I arranged for communicator Marty Meyer to speak with Edie's brood when they were six weeks old. Marty had never spoken with a litter to help a breeder with placements & was intrigued by the idea. We were both surprised by the things that the pups said they wanted from their lives. One boy wanted a family with kids. One girl wanted a big brother. One boy wanted to breed. Another boy wanted to do dog sports. Two girls wanted to do & learn things, & more. Glory wanted to be adored. Marty's readings of the pups have proven to be incredibly accurate!

Glory's littermates have traveled far & wide. Brother Totti (Hooligan's Globetrotter) lives in Finland, earned his Finnish, Swedish, Danish, Lithuanian, Nordic, FCI Int'l conformation & is the first IWS to earn a Finnish tracking championship; has a hip score of A & sired a litter, several of whom earned their championships. Three brothers went to the East Coast – to NY; Zeke (Hooligan's Hollywood 2 Gotham), earned his CGC at nine months old; to PA; Clay (Hooligan's On High Ground), earned his CGC at just over six months old; his TDI at a little over a year; is OFA Good, & earned several Dock Diving titles; & in SC; Doc (Hooligan's Galen Hunter) is overseeing his family including a younger IWS. Sister Slainté (Ch. Hooligan's Hail the Gorgon, CD, CGC) grew up in CO but now also lives in NY; is a working therapy dog; was the first in the litter to earn a championship point & has OFA Excellent hips. To OR went Sister Bella (Hooligan's H2O Go) & Brother Hunter (Hooligan's Gallant Hunter) who have both been dearly loved companions. Also in CA, Brother Choco (Ch. Hooligan's Home Grown Greens, OFA Good, Elbows Normal, Thyroid & vWD Normal) went Winners Dog at IWSCA 2006 for a five point major, then Best of Winners the following day at the IWSCA Supported Entry for another five points. Five weeks after the specialty, he became a real "Big Brother" when owners Rick & Sarah gave birth to Jonas Wilder Rutherford. Choco was born an "old soul" and has many lessons to teach HIS baby Jonas, & now his second and third human charges, Elliot & Leona Bea. Choco went Sporting Group II & IV first weekend as a special. His specials career was brief as he doesn't love the show ring; he'd much rather be home tending his children.

Glory's brother Totti, KANS FIN S(u) DK LT MVA, FIN MVA Hooligan's Globe Trotter, sired a litter in Finland out of KANS FIN DK MVA, JV-03, PMV-04 Catanka Taste of the Waltz, aka "Ella." One of those pups, FIN MVA Catanka I Have A Dream, aka "Mette," in an entry of 28 dogs, went Best of Breed/Best in Show Specialty at the Danish IWS specialty show under long-time American IWS breeder Greg Siner in June of 2010.

Glory is third generation OFA Excellent Hips, Elbows Normal, Thyroid & vWD normal. She picked up her first point as a Christmas present for me & completed her AKC championship the same day as Brother Choco. She also earned the right to have both CGC & TT after her name.

Glory has matured into a lovely typey bitch. She made me especially proud by being awarded a Judge's Award of Merit at the AKC/Eukanuba National Championship in 2009 under judge Terry Stacy. She earned the award as a seven-year-old veteran beating two Best in Show bitches for the honor. Somehow, I never felt that motherhood was the right path for her. She told a communicator that she thought that she'd enjoy sex, and that she'd be a good mother, but that it really did not interest her. She has her silly moments, especially with cousin Jezebel, but she also has her serious side. Cousin nanny-dog Callie is part of Glory, & she shares Callie's disinterest in performance venues. Occasionally I see a glimmer of interest in obedience, but then maybe not. Glory's a complicated soul exploring her path.

Sadly, most of this litter has passed over the Rainbow Bridge – Lucy to canine influenza, several to hemangiosarcoma, & some to just old age. They are all deeply missed by their owners.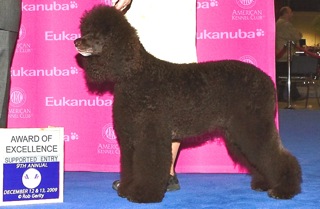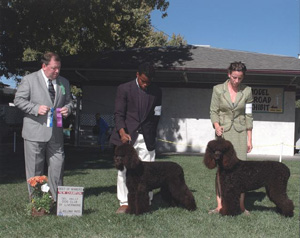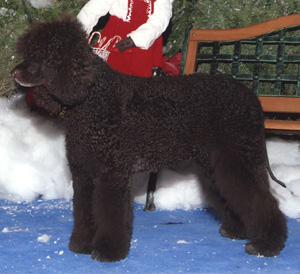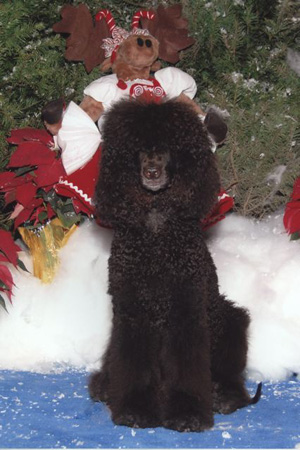 Ch. Hoolign GreenHopeFaerieGlory CGC,TT
(OFA:E)

Am Ch. Castlehill's Air Jordan O'Landacre UD,WC


(OFA:E,GP,NS)

Am Ch. Beaufield Decoy B'Golly
(OFA: E, GP, TP)

Am/Can/Mex/PR/Finn/FCI Int Ch. Co-R's Galway Bay O'Blu Max CD,JH,WC
(OFA:G,GP,TP)

Am Ch. Beaufield Bonny Widgel CD
(OFA:G,TP)
Am Ch. Catlehill's Heir Apparent CD
(OFA:F, TP)

Am/Can Ch. Castlehill's Magic Moment, Am/Can CDX
(OFA:G,NS,TP)

Am Ch. Castlehill's L.P. O'Whistelstop UD
(OFA:G,TP,Ob)

Am/Mex/FCI Intl Ch. Hooligan's Holy Grail CD,CGC




(OFA:E)

Am Ch. Aspen of Misty Waters CD,JH,WC
(OFA:G)

Eng Sh Ch. Hudson Chill at Doonbeg
(OFA 3:3)

Ir Sh Ch. Lady Claire of Spancilhill
(OFA 4:3)
Am Ch. Emerald Isle Co-R's Fiona O'B Max UD,FDX,TT,CGC
(OFA:E)

Am/Can/Mex/PR/Finn/FCI Int Ch. Co-R's Galway Bay O'Blu Max CD,JH,WC
(OFA:G,GP,TP)

Am Ch. Sylabru's Lace Curtain Irish
(OFA:G,TP)

Copyright ©2001-2011 Hooligan Irish Water Spaniels ~ All Right Reserved ~ Website Design by Eleventh Hour Design
CONTENTS OF THIS SITE ARE COPYRIGHTED!
DO NOT USE ANY OF THESE PHOTOS WITHOUT EXPRESSED WRITTEN CONSENT
!