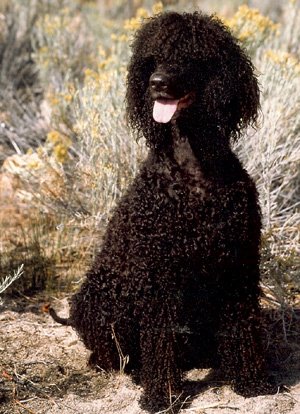 1/22/93 to 3/31/05
Health Clearances:
OFA Excellent Hips
OFA Normal Elbows
CERF tested

While I don't exactly remember the first day that I saw/met Callie, but it was certainly within the first week after she was whelped. She was an extremely dark, intense little girl who was VERY full of herself – full of piss & vinegar. I didn't think that AKC would accept that as her registered name, so I compromised & hoped that everyone would figure out my intentions.

Because of everything about her, she was named for Caliban, the sprite in Shakespeare's "The Tempest" – "Callie" for short. Cal came from an outstanding litter – a gorgeous dam, Ch. Co-R's Abigail O'Blu Max aka 'Abby,' & a Best in Show sire, Ch. Lindholme's Mr. Michael, CD, TD, JH aka 'Mick.' I debated with myself from the time that the pups were whelped until the day that they were evaluated whether I wanted one. It had only been about a year since I'd lost Bessie, & Fiona was enjoying being an only child. Callie's cuteness made me laugh, so after endless deliberation, home from Dorothy's she came, my dark little demon.

Callie finished her championship quite easily with three majors, two of which she earned by going Best of Winners over her brothers. She finished on April 2nd – not quite an April fool.

Cal always did the various performance sports – obedience, agility & flyball – merely to humor me. In spite of the fact that she was VERY good at them, she really didn't enjoy competing. But, what she did enjoy was herding. She, Fi & I attended a local Irish Fair where the Irish Wolfhound people had set up a lure course for their dogs. I asked whether my girls could give it a try. Fi & Callie thought that it was WONDERFUL! A serious herding person saw them work & said that we should pursue it. To make a long story short, we showed up one day at a local herding class. The instructor took one look at my girls & said, "You're going to herd with THOSE dogs?" By the end of the session his attitude was completely different. As IWSs are sporting dogs, they can't compete for AKC titles in herding, earthdog, et cetera, however, there is a herding instinct test given annually over the Mission Circuit dog show weekend, so I decided to enter Cal just for the fun of it. By the time that they got to us that very hot day, the poor sheep were exhausted – they dragged around the ring like slugs. Finally some new sheep were brought in & off went Miss Callie. Coincidentally, while she was leaving the showgrounds that day, Betty Liittschwager, one of Callie's breeders, happened to see Cal in the ring working the sheep. Callie & I went home that day with a certificate of accomplishment & a big smile!

When Callie indulged me & competed in obedience, she did extremely well. She earned her Companion Dog degree with placements on all her legs, & a High Scoring award at a large match. Because of her success we were asked to be on our obedience club's Top Dog competition team. Top Dog was held on an extremely hot August day & I had a terrible summer cold complete with chills & fever. I felt awful. Callie rose to the occasion & really did it all by herself. Under two tough judges, she earned scores of 196 & 195 1/2 in 100° temperatures. We lost the final runoff only because I could barely stand up & unfortunately she needed me to be in the ring. She was trained through utility & worked gleefully in practice, but because she didn't enjoy competing, it remained our personal entertainment.

Callie always deferred to Fi. When she was a youngster, I sometimes thought that she was Fi's dog & not mine. Fi was always the center of Callie's universe & Cal always looked up to Fi. The only time that Fi didn't want Cal around was the first week after Fi's pups were whelped. After that week, things were fine again, but it was a difficult week for Callie. As a matter of fact, Callie became the pups' nanny & did more correcting of Fi's young daughters than Fi did.

Callie flew back to Maryland to be bred. Apparently she walked out of her crate, had sex & quite enjoyed it. Evie Velez who owned Bramble, the dog to whom Cal was bred, said that the breedings were done in the family room, & that Callie would watch TV during the ties. Callie's enjoyment of sex paid off, as she ultimately had eight pups – not bad for a seven & a half year old girl's first litter! All of her get eventually ended up in companion homes where they've been well loved.

As with everything, Callie chose to leave this world on her own terms. After Fi died, Callie's enthusiasm for life dwindled – she seemed lost. She ate, played in the park, tended Fi's granddaughter Glory, but her spark was gone. She'd successfully fought mammary cancer for several years thanks to support from supplements & homeopathy, but I knew that on some level she'd chosen the cancer. One Tuesday she "lost" her rear & neither our chiropractor nor allopathic vet could find any reason why. Our homeopath concurred. I had a communicator ask Callie whether she was ready to leave, to which she replied that she was, but that she'd be back with our next litter as her lessons here weren't yet done. I mentioned to the communicator that I'd co-bred a litter out of Fi's daughter Mabel & that pups were due towards the end of April. The communicator answered that Cal had actually said that she'd be back at the end of April. Callie died two days later & the puppies were born three weeks after that. However, for whatever reason, I think that she had a change of heart. She may have spent some time with that pup, but ultimately, she seems to have decided to take up part-time residence in her last real charge – her cousin Glory. Callie and Glory already shared some physical traits – very dark, compact & petite. I'll catch a glimpse of Glory and am sure that I'm seeing Callie in a look, a movement, a behavior. Without thinking, I'll call Glory "Callie." They share an endearing opinionated "cuteness." The physical Callie may not be here anymore, but she definitely continues in her amalgamation with Glory. There's much that Glory can learn from Callie – many lessons well worth incorporating. Goodbye my sweet petite – Am/Mex FCI Int'l Ch. Co-R's Spit 'N' Vinegar O'Blu Max, CD, CGC, Mex TT – January 22, 1993 – March 31, 2005.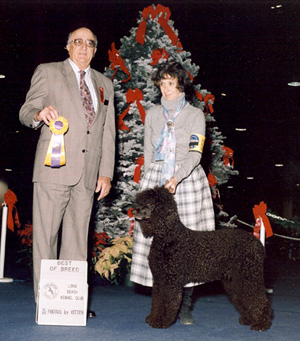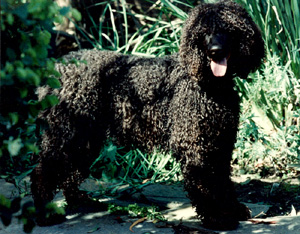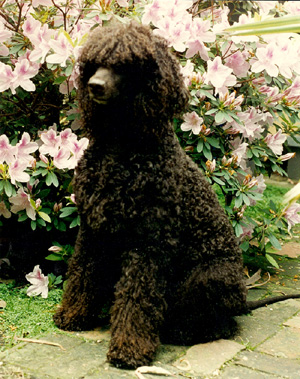 Mex/FCI Int'l Ch. Co-R's Spit 'n' Vinegar O'Blu Max CD,CGC,MexTT
(OFA:E)
Am Ch. Lindholme's Mr. Michael CD,TD,WC,JH
(OFA:F,GP,NS,TP)

Can Ch. Lindholme's Eachann
(GP)
Am Ch. Aviv'd Celestial Sailor
(OFA)
Am Ch. Caelbridy Lindholme's Neva
(OFA)

Lindholme's Fiona

Can Ch. Lindholme's Eachann
(GP)
Am Ch. Lakeview's Luck O'Ravenwood
(TP,NS)
Am Ch. Co-R's Abigail O'Blu Max
(OFA:G)
Am/Can/Mex/PR/Finn/FCI Int Ch. Co-R's Galway Bay O'Blu Max CD,JH,WC
(OFA:G,GP,TP)
Am Ch. Bantry Bay O'Blu Max CD,WCX
(OFA,GP,TP)

Am Ch. Co-R's Sylabru Sally O'Blu Max
(OFA:G,GP,NS)
(TP)
Am Ch. Co-R's Maeve O'Blu Max CD
(OFA:G,TP)
Am Ch. Bantry Bay O'Blu Max CD,WCX
(OFA,GP,TP)
Am Ch. Co-R's Megan O'Blu Max CD
(OFA:F,TP)

Copyright ©2001-2011 Hooligan Irish Water Spaniels ~ All Right Reserved ~ Website Design by Eleventh Hour Design
CONTENTS OF THIS SITE ARE COPYRIGHTED!
DO NOT USE ANY OF THESE PHOTOS WITHOUT EXPRESSED WRITTEN CONSENT
!