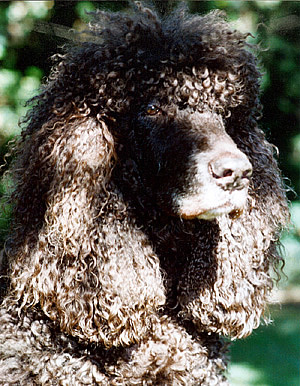 Am Ch. Emerald Isle Co-R's Fiona O'B Mx

Welcome to Hooligan Irish Water Spaniels. Florence Blecher has been involved with IWSs since 1986. During that time she has served in various offices for the Irish Water Spaniel Club of America and is currently Historian/Archivist and AKC Legislative Liaison.

We hope that you'll find this site helpful & informative with its pages of breed lore, general holistic healthcare information as well as advice on feeding a biologically appropriate diet. We've come to this orientation through much thought and study and trust that you'll find it both interesting and thought-provoking.

We breed infrequently as Irish Water Spaniels, in spite of their looks, definitely aren't the right dog for everyone. We breed only when we want to add another dog to our own family, but will always be glad to help with referrals when appropriate.

It would be neglectful not to acknowledge my breed mentors – Ruth Roes, Betty Liittschwager and Dorothy Read, aka "the Co-R's ladies," for starting me on this path, and to thank them for their guidance, patience, knowledge, insights and advice over the years. Thanks too to Marion Hopkins of Mallyree IWS, for her good humor, tenacity and Yankee independence. Thanks also to my colleagues in this & other breeds from whom I learn so much.

Lastly, thanks to dear Karen Smith of Eleventh Hour Design, who patiently put this site together for us.
Animal Extremist Alert


In many parts of the world, especially here in the US, our rights to own -- NOT be "guardians" of -- and breed intact purebred/pedigreed animals are under assault by Animal Rights extremists like PeTA/People for the Ethical Treatment of Animals, HSUS/Humane Society of the United States and others. Unlike what they would have you believe, these are NOT benign or benevolent organizations that help animals. Instead, they are hugely wealthy legislative lobbying organizations. Many of those groups promote juvenile sterilization -- castration and hysterectomy -- which is like performing those surgeries on a human infant. Hormones are necessary for the proper growth, development and functioning of our bodies -- especially young bodies -- including those of puppies and kittens. Improper bone formation/orthopedic disorders, increased risk of many cancers, hypothyroidism, obesity, urinary disorders, incontinence and behavioral issues are only some of the problems that may result from juvenile gonadectomy. In a small breed like Irish Water Spaniels, this policy could have a devastating effect and ultimately wipe out the breed.

The saddest part of this AR ruse is the fact that this misguided policy will have virtually no effect on reducing the numbers of shelter animals. Most shelter animals are feral cats or mixed-breed dogs who are allowed to roam at large. Statistical data clearly shows that shelter populations have been steadily declining for over twenty years, yet well-funded AR forces grow stronger daily as a result of their deceptive campaigns of lies and half-truths that resonate with "political correctness."

I urge you to remain informed about these matters and to donate to your state, local or national dog federation or group fighting these Draconian laws. Please consider donating to:

National Animal Interest Alliance
naiaonline.org
AKC's PAC or Canine Legislation Support Fund
http://www.akc.org/canine_legislation/legislation_donations.cfm

or to other relevant groups & organizations. Also, please consider donating to or volunteering at your local animal shelter.
There are also nationwide, as well as state-specific, legislative email groups. Pet-Law and the NAIA list cover the US and have references to worldwide animal-related legislation. Please stay informed!

NAIAandNAIATrustMembers@yahoogroups.com
pet-law@yahoogroups.com

If you want to own a purebred/pedigreed animal, its parents need their reproductive organs for that to be able to happen. Please – always buy from a responsible hobby breeder who shows and titles their animals and who has all appropriate health testing done on them. These animals are purpose bred with love for the betterment of their breeds! Thanks!
Copyright ©2001-2011 Hooligan Irish Water Spaniels ~ All Right Reserved ~ Website Design by Eleventh Hour Design
CONTENTS OF THIS SITE ARE COPYRIGHTED!
DO NOT USE ANY OF THESE PHOTOS WITHOUT EXPRESSED WRITTEN CONSENT
!